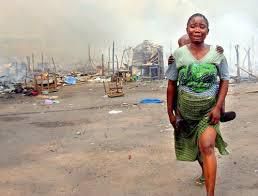 It's been over a decade since the largest nation in Africa (geographical size) has fallen in pieces in the worse post World War II conflict. Over 6 million people have died ever since and close to 1 million women and girls as young as 3 and as old as 80 have been raped in this horrible conflict. Although the United Nations has deployed thousands of peacekeeping forces in the Congo and world superpowers claim to have spent billions of dollars to stop the war, things haven't changed much. Eastern Congo, which is the area most affected by the conflict has been named the worse place to be a woman as rape has been an active weapon of war for the fighting forces.
So many reports indicate that the conflict is attached to the extreme mineral wealth of The Congo and the presence in that country of resources used in the production of electronic gadgets. Several Multinational Corporations have also been linked to the conflict as they purchase minerals from the rebels who sustain themselves financially trough the exploitation of these minerals. This has led some nations to sign "conflict mineral free" bills to ban the use of conflict minerals in their countries but can one honestly trace these and are these actions effective?
After reading so many articles and reports from "world experts" on the Congolese war, I still wonder when and how will the crisis in the Democratic Republic of Congo stop and I believe that millions of Congolese people ask the same question.